Biography of Henri Florence
*1895 New York, USA
† 1982 Compiègne, Frankreich
1925
Studies at the Académie Moderne in Paris with Fernand Léger and Amédée Ozenfant. Her main interest is constructivistic painting.
1927
Studies at the Bauhaus Dessau. The introductiory course is taught by László Moholy-Nagy and Josef Albers. Influencend by Moholy-Nagy she later turns towards photography.
1929
Back in Paris she opens an own studio for portraiture, fashion, advertisment and photographic illustrations.
1963
Henri moves from Paris to Bellival sur Oise, where she continues to create constructivistic paintings.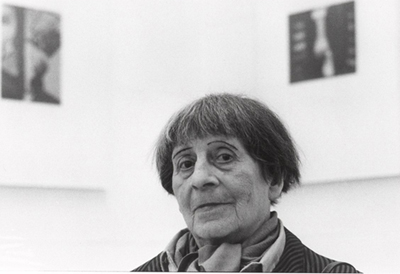 1975, Galerie m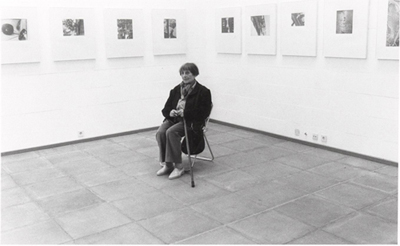 1975, Galerie m
Selected Exhibitions and Publications
1929
"Fotografie der Gegenwart", Museum Folkwang, Essen, Hannover, Berlin, Dresden, Magdeburg
"Film und Foto. Internationale Ausstellung des Deutschen Werkbundes", Stuttgart, Berlin, Wien (1930). reprint of cat., Deutsche Verlags-Anstalt, Stuttgart 1979
1930
"Das Lichtbild", München, Essen, Düsseldorf, Dessau, Breslau
1931
"Die neue Photographie", Kunstgewerbemuseum Basel
"Foreign Advertising Photography", Art Center New York
1932
"The Modern Movement in Photography", Royal Photographic Society of Great Britain, London
1933
"Photoausstellung" Florence Henri - Paris", Kunstring Folkwang, Essen, solo exhibition
1934
"Florence Henri", Galerie de la Pléiade, Paris, solo exh.
"Internationale Lichtbildausstellung", Berlin
1937
"Foto '37", Stedelijk Museum Amsterdam
"Photography 1839 - 1937", Broschüre, Text von Beaumont Newhall, Museum of Modern Art, New York
1970
"Fotografinnen", Museum Folkwang, Essen, cat. with texts from Otto Steinert, Hélène Schreiber, Heinz Winfried Sabais
"Photo Eye of the 20's", broshure, text by Beaumont Newhall, Museum of Modern Art, New York
1974
"Florence Henri", Galerie Wilde, Köln, solo exh., Portfolio 1974
1975
"Florence Henri", Galerie m, Bochum, solo exh., Vintage Prints
1976
"Florence Henri - Aspekte der Fotografie der 20er Jahre", Westfälischer Kunstverein, Münster, Baden-Baden, solo exh., cat. with text by Herbert Molderings
1978
"Florence Henri, Photographies 1927 - 1938", Musée d'Art Moderne de la Ville de Paris, solo exhibition, cat. with text by Herbert Molderings, Suzanne Pagé
1979
"Florence Henri. Aspetti di un percorso 1910-1940", Sagep Editrice, Genua, solo exhibition, cat.
"Florence Henri", Photographers Gallery, solo exh., London
1981
"Florence Henri. 70 Photographies 1928-38", Musée d'Art et d'Histoire, Genf
"Sammlung Otto Steinert Fotografien", Museum Folkwang, Essen
1983
"Bauhausfotografie", in: Ausstellungsserie Fotografie in Deutschland von 1850 bis heute, Institut für Auslandsbeziehungen, cat., text by Wulf Herzogenrath
1987
"Fotografie in der Weimarer Republik", in: Ausstellungsserie Fotografie in Deutschland von 1850 bis heute, composition and text by Herbert Molderings, Institut für Auslandsbeziehungen, cat.
1990
"Florence Henri: Artist-Photographer of the Avant-Garde", San Francisco Museum of Modern Art, Detroit, Iowa, Los Angeles, solo exh., cat., Ed. and text by Diana C. du Pont
1990
Photographien: Florence Henri, André Kertesz, Emmanuel Sougez, Galerie m, Bochum
1991
"Fotografie im Bauhaus, Überblick über eine Periode der Fotografie im 20. Jahrhundert", Berlin, Tübingen, Hamburg, Zürich, Paris, cat., text by Ann Wilde
1996
"m Bochum: Eine Geschichte der Galerie in Bildern", Galerie m Bochum
1999
"m Bochum: Fotografie. Rückblick und Ausblick", Galerie m Bochum
2003
"Porträtfotografien der 1920er und 1930er Jahre - Sammlung Ann und Jürgen Wilde", Sprengel Museum Hannover
2009
Florence Henri, Situation Kunst - für Max Imdahl, Bochum