Since before classical antiquity thermal baths have been regarded as medically potent places where physical and mental healing might occur and where cures were available for a variety of ailments. In the mid 19th century there was a shift toward considering the spa as a leisure setting and, as such, a very precise set of ritualistic behaviours evolved, both socially and medically, for taking the waters.

This selection of Water Rites explores current day Kurbaden in Germany which has a highly developed network of spas offering medicinal and health benefits through a variety of curative measures including massage, hydrotherapy, and physical therapy. These curing baths have long flourished under a system of state supported health insurance, but many have now found it necessary to change due to a reduction in those benefits. This can be seen most clearly in the images from Bad Bertrich of "theme" rooms which serve to shift the emphasis from strictly healing to pleasure and which offer regimes including mud baths, suntanning and herbal wraps which are often considered to be beauty enhancements.

This work is a continuation of the ideas generated by Corporal Arenas and The Omega Suites. Whether it is a lethal injection chamber, a surgical operating theatre, or a water therapy room, the body becomes an entity controlled by forces outside of itself. But it is in spa treatments where we begin to see a confluence of the discomfort associated with medicine and the pleasure associated with beauty treatments. C-Print, each: 74,4 x 74,4 cm (100 x 100 cm framed) or 50,5 x 50,5 cm (70,4 x 70,4 cm framed).



Gradierwerk, Bäderhaus, Bad Kreuznach, 2002
Römische Bäder, Carolus Therme, Bad Aachen, 2002
Ruheraum, Friedrichsbad, Baden-Baden, 1999

Elektrotherapie, Reha-Zentrum, Bad Liebenstein, 1999
Fürstenbad, Palais Thermal, Bad Wildenstein, 1999
Kaltwasserbad, Friedrichsbad, Baden-Baden

Massageraum #2, Kurmittelhaus, Bad Wildstein, 1999
Massageraum #1, mit Bällen, Kurmittelhaus, Bad Wildstein, 1999
Massageraum #1, mit Bällen, Kurmittelhaus, Bad Wildstein, 1999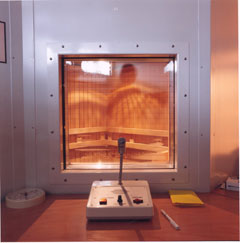 Kältekammer, Therapeutisches Zentrum, Bad Harzburg, 1999