Paintings by Kuno Gonschior
Since 1963 Kuno Gonschior deals with the intense research in the field of optical-art. However in contrast to this Gonschior does not concentrate on the act of seeing itself, but rather on colour and its relationship to the materials he uses. Thus the effect of color is always a main point in his paintings.
In his paintings, he rises the question how the human visual system depends on this effect and the difference between the color of an "appearance" and "impression". The focus lies on seeing as a physical process.

Kuno Gonschior says about his own working methods:
"I work like in a laboratory experimenting and calculating in series which differ slightly from each other only.
And I make groups (...) and new constellations carefully observing the process at the same time. All my work is serial and a series of such series. "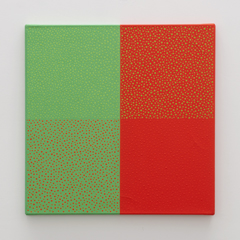 Kuno Gonschior
o.T., 1966
fluorescent color on canvas, 70 x 70 cm
Fluorescent Colours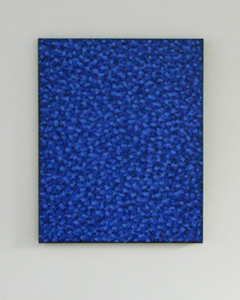 Kuno Gonschior
Ultramarinblau, 2009
gel, acrylic on canvas
100 x 80 cm
Farbsetzungen
"Colour has an optical effect. For example I can coat the entire canvas with blue, red or green. But sometimes I need that haptic quality, for the paint to become 3- dimensional and thicker when applied. Then I become keenly aware that it is also a substance, a mass. That it is a body, that the colour has a body. Then there is this chiaroscuro effect, of light and shadow. It is far more nuanced when I do it in 3-D" (Kuno Gonschior)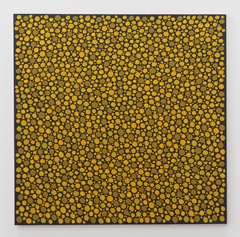 Kuno Gonschior
Schwarz,1999
Acryl on canvas, 250 x 250 cm
Large Scales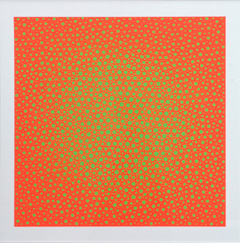 Kuno Gonschior
o.T., 1969
screenprint, 60 x 66 cm
Prints