Poetic works by Barbara Köhler
"Köhler's overarching goal is to explore the many dimensions of texts and the relationship among media. She pays special attention to tone and rhythm, and is known as well for her wonderful sense of humor."
(Oberlin College & Conservatory on Barbara Köhler as their 41st Current Writer-in-Residence, 2009)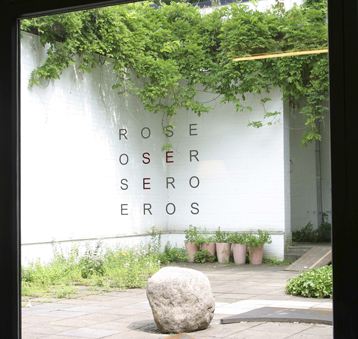 The Promised Rosegarden, 2006
letters on window glass
36 x 36 cm, unlimitierte Auflage
THE PROMISED ROSEGARDEN is a magic square from the four letters of the word ROSE, that in three languages, English, German, and French (each of which Gertrude Stein also spoke), is written the same, but pronounsced differently (: seen the same, yet simultaneously heard differently). By shifting each of the first letters to the last position, a vertical variant arises perpendicular to the horizontal, from both as a semantic field, formal plot, where new words emerge.
The Promised Rosegarden is an unlimited Edition by Galerie m
further information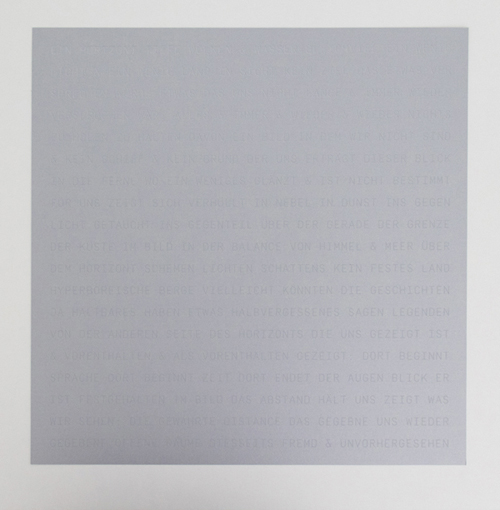 Seestück, 2019 LED UV-Direktdruck mit Weißdruck auf Metallicpapier 50 x 50 cm
Seestück, 2019
The work Seestück (engl.: Lake piece) plays with visibility and invisibility. The lyric text is mor or less cognizable according to the LED UV-print on metallic paper and the reflecting glass of the frame. The installation in the Galerie m in 2019 with Lucinda Devlin's Lake pictures intensify the effect.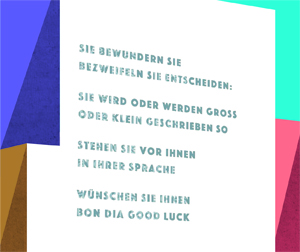 GEDICHT
for the Alice-Salomon-Hochschule Berlin 2018
For years "Avenidas" by Eugen Gomringer shaped the facade of the Alice Salomon Hochschule Berlin. Now it is painted over with a poem by Barbara Köhler. The poet explains that it is not so much about censorship as about effect in public space.
further information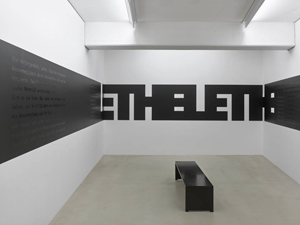 LETHE | WASSERLÖSUNG
, 2018
Barbara Köhler befasst sich, anlässlich der Ausstellung "Kunst & Kohle", mit der Sprache der Bergleute und des Bergbaus und verwandelt 2018, im DKM Museum Duisburg einen Raum in ein "Wort-Flöz".
Mehr zu den
Texten und Gedichten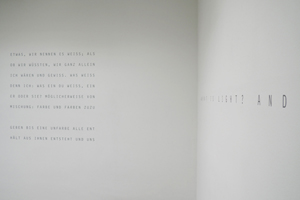 light, 2015
Galerie m Bochum
Eine Textzeile in Silbergrau umschreibt den Raum und formuliert das Kernthema der
Ausstellung
in Form von zwei Fragen:
WHAT IS LIGHT? AND SHOULD SOMETHING THAT IS HEAVY ALSO BE DARK?
Thematischer Ausgangspunkt dieser auf Sprache basierenden Rauminstallation ist Licht, "eine der vielleicht am schwierigsten zu erklärenden Angelegenheiten überhaupt", wie Barbara Köhler in einem Statement äußert. Sie nimmt darin Bezug auf Relativitätstheorie und Quantenphysik: "Lichtquanten (Photonen) können sich sowohl wie Wellen als auch wie Teilchen verhalten, nur dass sich das für uns ausschließt – bzw. das uns eigentlich nicht länger möglich macht uns ausschließend zu verhalten". Diese Erkenntnis überträgt sie auf das Gebiet der Sprache, um sie sozusagen in einem neuen Licht erscheinen zu lassen.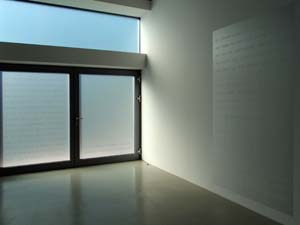 Schattenfuge, 2014
Museum DKM Duisburg
Die Installation Schattenfuge, 2014, gestaltete die Künstlerin für die Ausstellung Duisburger Perspektiven. RuhrKunstSzene im Museum DKM in Duisburg.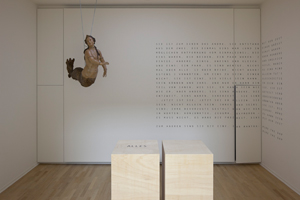 Allegorie, 2011
Installation at Museum Kunstpalast, Düsseldorf
Im Zuge ihrer Beschäftigung als Museumsschreiberin am Museum Kunstpalast in Düsseldorf gestaltete Barbara Köhler auch eine Ausstellung, bei welcher die Textinstallation Allegorie im Zusammenspiel mit weiteren Werken entstand.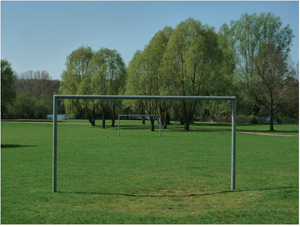 "Es gibt ein spiel und jemand spielt es: es gibt spieler. Oft spielt noch jemand mit, dann gibt es spieler und mitspieler, gibt es ihn oder sie in der einzahl und in der mehrzahl und sogar weiblich mit -innen: es gibt spiele vieler. (...)"
aus Barbara Köhler : ZUM BEISPIEL
(aus:
Neufundland
, edition korrespondenzen, Juni 2012)