Photographs by Apolonija Šušteršic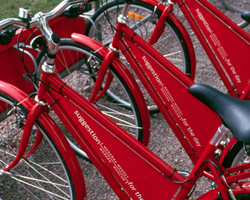 Suggestion for the day


"The fascination with space is clearly visible in my projects in a number of ways hopefully to the same extent as the general social analysis and criticism: I'm interested in questioning the social and institutional context of the place / situation I'm working with. I would always start with the research of a specific context: looking into present situation related to the politics of the place which further on generates the entire creative process where the role of the viewer is replaced by the role of the participant. The result isn't only imbued in analytical criticism as one would expect but it produces in itself already a suggestion for the future (however naïve or idealistic). My intention is to pursue new possibilities and make proposals from a hybrid point of view that ranges beyond art and architecture. Making socially committed works that naturally takes the form of the everyday life activity."
Apolonija Šušteršic, Community Research Office: Art Spaces and the Gentrification Process in East London, Revolver, März 2005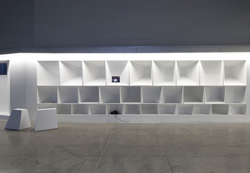 showcase at MUSAC, Spain 2013
2013 Apolonija Šušteršic was invited from MUSAC, Museo de Arte Contemporáneo de Castilla y Léon, Spain to design the
showcase
in the museum's lobby. The design of this platform takes into account the façade of the
auditorium
, an iconic building in Léon. The function of contemporary architecture in the construction of a city becomes an object of reflection.
Videostatement
by Apolonija Šušteršic, 4'42''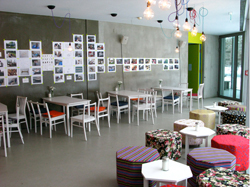 Café KAFIČ, 2010
In 2010 Apolonija Šušteršic has redesigned the
Café KAFI?
in Galerie für Zeitgenössische Kunst in Leipzig together with Meike Schalk. The concept is based on the twin cities of Leipzig and the tradition of Arabian coffeehouses. The structure combines the different functions of the café which is the café of the museum, club, venue and meeting place of different scenes at the same time.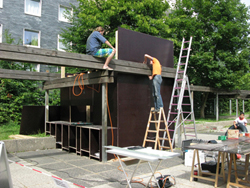 Hustadt-Projekt
Bochum, Germany, since 2008
Artist in Residence of the City of Bochum
Apolonija Šušteršic is since September 2008 artist in residence guest of the city of Bochum. She develops a project in the former so called "Universitätsrahmenstadt" in Bochum-Querenburg, the Hustadt. During approximately the next eight months she will focus on the central "Brunnenplatz" - a place that should become the source for a vivid community life among the many different cultures and nations on-site.
The project is funded by EU, Germany, North-Rhine-Westfalia and the city of Bochum.
Current Project at the Hustadt in Bochum
blog of the Hustadt Project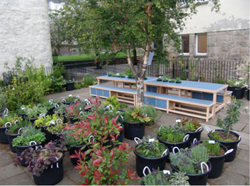 Garden Service, Projekt
public gardens, Edinburgh, 2007
In 2007 Apolonija Šušteršic realised the garden project
Garden Service
in Edinburgh.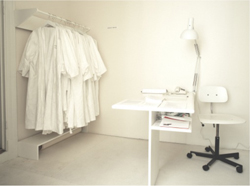 Light Therapy, Projekt
Moderna Museet, Stockholm
Sweden, 1999
In 2003 Apolonija Šušteršic organised the project
Showroom/ Meeting Room, Back Room
. As part of the project a discussion about the realisation of a Museum of Contemporary Art in Slovenia took place. Even Slovenias minister of culture took part in the discussion. Apolonija Šušteršic arranged the rooms for the event as well.
In 1999 Apolonija Šušteršic realised the project
Light therapy
for the Museum of Contemporary Art in Stockholm.