October 8, 2021 until February 26, 2022
Evelina Cajacob
|
Zoe Dittrich-Wamser
|
Caroline von Grone
Aino Kannisto
|
Simone Nieweg
|
Stephan Schenk
The fantastic world of children playing in nature is the core of
Between Worlds
. The photographic series was created from ideas of the children and observations by Aino Kannisto.
The exhibition shows these images in dialogue with the works of Evelina Cajacob, Zoe Dittrich-Wamser, Caroline von Grone, Simone Nieweg and Stephan Schenk, who each approach the space between worlds in their own individual way.
Statement
Aino Kannisto
After 20 years of self-portaits I made a series of photos working with children as protagonists in the photographs. I was going trough harrowing fertility treatments, the ebb and flow of hope and despair. At the same time, I had wonderful children, very dear and very present, in my life. I wantend to focus my attention to the mystery and beauty the children were carrying within, which invited me to visit the most treasured parts of my own childhood memories. These pictures are less of a documentary, rather a blend of reality and fantasy, theirs and mine.
Statement
Caroline von Grone
What I see connects me to nature, to the object of my vis-à-vis, on a very deep level. The beauty of the colors, the extraordinary forms are always new and different. Such a scene motivations me all on its own. It reminds me of something symbolic, but it can also simply be itself. At the same time, it gives me hope. The image is at once figurative and quite abstract. That's what I try to paint. Entirely representational and yet abstract. Painting this way will always be new. If photographic color could achieve the same effect, I might take pictures. But they are two different worlds.
Statement
Stephan Schenk
Insomnia 2
is the third motif from the three-part work
Dreamer
. Dreamer is a work about states of mind caught up between dream and reality, between lonliness and hope. Solitude, anxiety, pain, and loss can affect any of us. And social isolation and exceptional circumstances have dominated our lives in an unprecedented way during the past months. Is it really true that what doesn't kill us makes us stronger? Or can we already consider it a major achievment not have perished? All we have left hope, longing, confidence, empathy, humility - and dreams. Dreams are not solution or a promise of salvation but they do give us brief escape and a glimpse of light between divergent worlds. So dream away!
Statement
Evelina Cajacob
The hand takes, gives, strokes, grasps, show, kneads, strikes ...
The hands communicate and underline interpersonal vibrations of all kinds.
I have been working with hands for some time now - with handicrafts, with hand and object.
In this video, the hands stand alone.
They caress, they play, they gesticulate, they dance.
They touch - and yet do not touch.
Statement
Zoe Dittrich-Wamser
What lies in-between is my field of research. Consistencies meet up here, and physical contact tells of the mutual influence of material, space, and living being. What happens between these actors? How do they relate to one another? What leans, what supports, what sustains?
Through tactile interactions I gain a way to approach these questions. This gives rise to constellations in which sensitivity of the work often lends the situation its expressiveness.
Statement
Simone Nieweg
My photographic documentation of garden huts springs from the search for unconventional small-scale architecture of this genre that have remained untouched by conventional DIY culture.
I found this shed, which has all sorts of wires attached, surrounded by water containers and harvested cabbage plants north of Paris. The area is dominated by industrial zones and multi-story apartment blocks but still has some agricultural land. Many Algerian immigrants live there and practice subsistence farming.
Due to its wonderful fabric of hanging wires, we called this shed "La Cabane des Miró"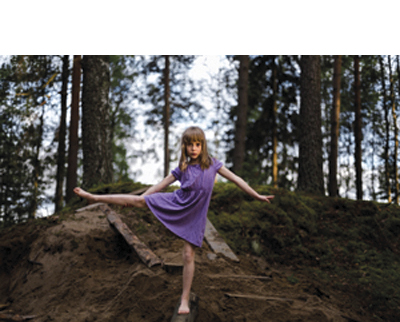 Aino Kannisto, Balancing Act, 2015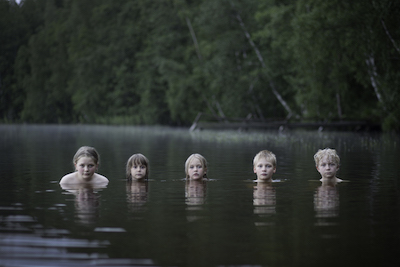 Aino Kannisto, Nixies children, 2015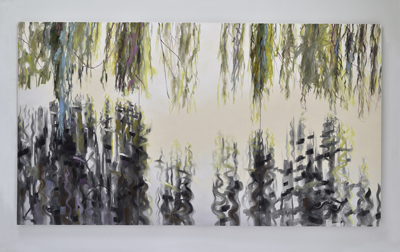 Caroline von Grone, Weidenwasser 11, 2020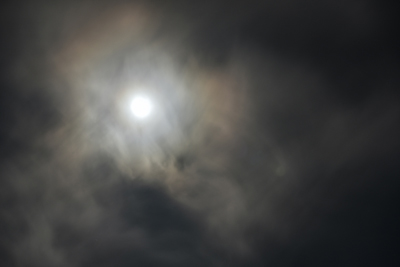 Stephan Schenk, Insomnia 2, 2020/21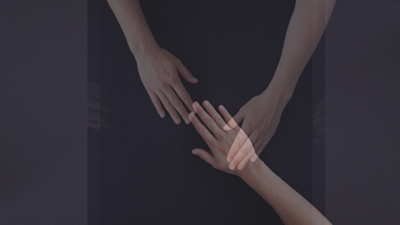 Evelina Cajacob, HandSpiel in rosa, 2021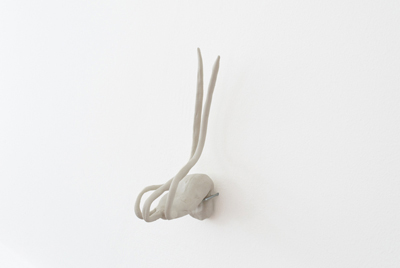 Zoe Dittrich-Wamser, Untitled, 2021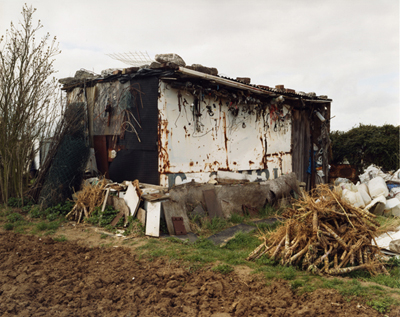 Simone Nieweg, Schuppen mit Drahtwerk, Louvre, Val d'Oise, 2006