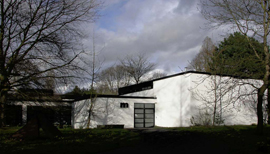 If you would like to receive our newsletter, please register here:
Subscribe for the newsletter
Follow us on:
Facebook
Instagram
Galerie m


Founded in 1969, Galerie m is owned by Susanne Breidenbach since 2003. The programme concentrates on international contemporary art including painting, sculpture, graphic, photography, film, video and installation.

The gallery with its broad and light-flooded exhibition rooms is located immediately in the Schlosspark Haus Weitmar in Bochum. Up to nine exhibitions per year are shown. Consulting private as well as corporate collections and a close cooperation with national and international museums, art festivals, and other institutions forms an essential part of our work, which enables represented artists to take part in various exhibitions worldwide.