Biografie von Aino Kannisto
* 1973 Espoo, Finnland
Lebt und arbeitet in Helsinki
2001 Master of Arts, Department of Photography, University of Art and Design, UIAH, Helsinki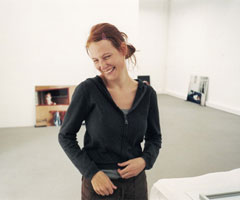 Aino Kannisto, Galerie m Bochum, 2003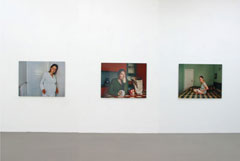 Galerie m Bochum, 2006
Einzelausstellungen
(Cat.) = Katalog
2018
Women (on their own)
, Galerie m Bochum
2016
Satu Haavisto & Aino Kannisto. Delicate Demons, Northern Photographic Centre, Oulu
2015-2016
Aino Kannisto
, Galerie m Bochum
2014
Hotel Bogota
, Taik Galerie Berlin
2013-2014
Hotel Bogota
, Kunstverein Recklinghausen
2013
Hotel Bogota
, Photoplatz, Hotel Bogota, Berlin
She and She. Seit 1997
, Galerie m Bochum
2011
Johyun Gallery Seoul, Korea mit Jang Lila
2010
Städtische Galerie Iserlohn
2009
Galerie Forsblom, Helsinki
Reihe Lebenswirklichkeit
, Kunstverein Ludwigsburg
Museu Nogueira da Silva (Encontros da Imagem), Braga, Portugal
2008
Museum of Applied Arts, Belgrade, Serbia
2006
Neue Fotografien | New Photographs
, Galerie m Bochum
Galeria Colon, Bilbao, España (Cat.)
Transit Art Space, Stavangar, Norge (Cat.)
Galleria Artina, Helsinki, Suomi/Finland
Espacio Liquido, Gijon, España
2004
Staged Photographs, Kunstverein Münsterland, Coesfeld (Cat.)
51 Salón Internacional de Fotografia, Palacio Revillagigedo, Gijon, España (Cat.)
Galleria Artina, Helsinki, Suomi/Finland
2003
Fotografier, Finlandsinstitutets Galleri, Stockholm, Sverige
Personlige Portretter, Finsk-Norsk Kulturinstitutt, Oslo, Norge
Häme Galleria, Lahti, Suomi/Finland
Personal Photographs, Galleri Image, Århus, Danmark
2002
Portraits Personnels, Institut Finlandais, Paris, France (Cat.)
Staged Photographs, Galerie m Bochum Fotografie, Bochum
Pohjoinen Valokuvakeskus/Northern Photographic Centre, Oulu, Suomi/Finland
Valokuvakeskus Peri/Photographic Centre Peri, Turku, Suomi/Finland
2001
Mikkelin Valokuvakeskus/Mikkeli Photographic Centre, Mikkeli, Suomi/Finland
Galleria Artina, Helsinki, Suomi/Finland
2000
Valokuvagalleria Hippolyte/Photographic Gallery Hippolyte, Helsinki, Suomi/Finland
Fotografisk Center, København, Danmark
Gruppenausstellungen (Auswahl)
2021-2022
in:
Zwischen Welten
, Galerie m, Bochum
2019
Galerie m | 3. Mai 1969 - 3. Mai 2019
Der Mensch in der finnischen Kunst. An der Nordkante
, Stadtgalerie Kiel
Mikkeli Photographic Center
2018
Of Individuals and Places
, Montreal Museum of Fine Arts, Kanada
Aussicht - Einsicht. Das Fenster in der Kunst
, Museum Sinclair-Haus im Schlosspark Bad Homburg, (Cat.)
Inside Out. Fotografie und Psychologie
, Art Foyer der DZ Bank Kunstsammlung, Frankfurt a. M.
2017
Gestures Towards the Self
, Ars Nova, Turku
Me: Self-Portraits Through Time
, Kunsthalle Helsinki
2016
On Escape and Concurrence: Inverting the Gaze
, The Novo Banco Contemporary Photography Collection, Espaço Novo Banco
Hinter dem Vorhang. Verhüllung und Enthüllung seit der Renaissance
, Stiftung Museum Kunstpalast, Düsseldorf
Fiktive Wirklichkeiten. Finnische Fotokunst
, Stadtmuseum Langenfeld
2015
Gestos hacia une mismo. Selección de autores finlandeses
, TEA Tenerife Espacio de las Artes, Santa Cruz de Tenerife
Estampa, Feria de arte contenporáneo
, Matadero de Madrid
Le Vol en Provenance d'Helsinki
, Le 19, Centre Régional d'Art Contemporain, Montbéliard
Touching from a Distance
, Gösta Pavilion, Mänttä
2014
hängengeblieben. 25 Jahre Kunstverein Recklinghausen
, Kunsthalle Recklinghausen
Shifting Identities
, MACRO, Rom
Delicate Demons - Episodes of Womanhood
mit Satu Haavisto, The Finnish Museum of Photography, Helsinki
2013
The Look Behind | Der Blick dahinter
, Märkisches Museum Witten
La Colección de Alicia Aza
, Museo Lázaro Galdiano, Madrid
2011/2012
A FEMALE VIEW
, Helsinki School, Finland, Foto-Raum, Wien
2011
That's me. Fotografische Selbstbilder
, Marta Herford
2010
Highlighted. Contemporary Finnish photography from the collection of P. and M. Sanders
, Nieuw Dakota, Amsterdam
2009
Zeitgenössische Kunst aus Deutschland und China
, Wuhan Museum of Fine Arts, VR China
Who killed the painting? Werke aus der Sammlung Block, Weserbrug, Museum für moderne Kunst, Bremen, Deutschland (Cat.)
Dazzling! Wäinö Aaltonen Museum, Turku, Finland
The Site of Painting, Pori Art Museum, Pori, Finland
2008/2009
Who killed the painting? Werke aus der Sammlung Block, Neues Museum Nürnberg, Deutschland
2008
ARTISTAS DE LA HELSINKI SCHOOL, camara oscura galeria de arte, Madrid, Spain
Biennale d'art contemporain du Havre, Musée Malraux, Le Havre, France
Reflections, Kuntsi Museum of Modern Art, Vaasa, Finland
BESart, Museu Colção Berado, Lisbon, Portugal (Cat.)
2007
Helsinki School Show, Stenersen Museet, Norway
zwischen traum und wirklichkeit, Städtische Galerie Lüdenscheid
Inszenierte Fotografien, Kunstverein Schwäbisch Hall, Deutschland
Junge finnische Fotografie, Museum Ludwig, Koblenz, Deutschland
self timer,
Nikolaj exhibition space,
Kopenhagen
2006
Boras Konstmuseum, Schweden
Paris Photo, France
Goya Contemporary, Baltimore, USA
The Faraway Nearby, White Box, New York, USA
Fotofinlandia, Sanomatalo, Helsinki & Photographic Center VB-Keskus, Kuopio, Suomi/Finland
Reflections, Kulturhuset, Stockholm, Sverige
zwischen traum und wirklichkeit, Galerie der Stadt Tuttlingen, Deutschland
summertime, Galerie m Bochum, Deutschland
Art, life and confusion, October Salon Belgrad
Helsinki International, Korjaamo/Finland
self timer, Nicolai exhibition space, Køpenhagen, Danmark
self timer, National Museum Bukarest, Rumänien
2005
The Helsinki School – A new approach, Kulturhuset, Stockholm, Sverige, & Künstlerhaus Betanien, Berlin, Deutschland & Photology, Milano, Italia (Cat.)
zwischen traum und wirklichkeit, Museum der Stadt Ratingen, Deutschland, & Städtische Galerie sohle 1, Bergkamen, Deutschland (Cat.)
Matisse &, Statens Museum for Kunst, Køpenhagen, Danmark (Cat.)
Interior/Exterior, Centrum Kultury Zamek, PF Gallery, Poznan, Polen (Cat.)
Selbstauslöser, Kunsthalle Fridericanum, Kassel, Deutschland (Cat.)
2004
Wirklich wahr! Realitätsversprechen von Fotografien, Ruhrlandmuseum Essen, Deutschland (Cat.)
z.B. Portrait, Kunstverein Erfurt, Deutschland
30 by TAIK, Suomen Valokuvataiteen Museo/Finnish Museum of Photography, Helsinki, Suomi/Finland
GOGANN/Suomen taiteilijain 109. näyttely/Neljäs triennaali/109th exhibition of Artists Association of Finland/4th Triennial, Helsingin Taidehalli/Kunsthalle Helsinki, Suomi/Finland
2003
GOGANN, Gallery Fleur, Kyoto Seika University, Kyoto, Japan (Cat.)
Vieraanvaraisuuksia, Voipaalan Taidekeskus/ Art Centre, Sääksmäki, Suomi/Finland (Cat.)
Omakuva-Elokuva-Elonkuva, Promenadi Galleria, Hyvinkää, Suomi/Finland
Women2003, København, Danmark, & Göteborg, Sverige (Cat.)
Opening Hours, Salon Taidemuseo/ Art Museum of Salo, Suomi/Finland (Cat.)
Trasparente, Museo Nazionale delle Arti del XXI Secolo, Roma, Italia (Cat.)
z.B. Portrait, Kunstverein Münsterland, Coesfeld, Deutschland
Fünf Positionen finnischer Fotografie, Kunstverein Schwerte & Kunstverein Arnsberg, Deutschland
2002
The built and the living, Café Créme, Luxembourg (Cat.)
Stiftung für Zeitgenössische Fotografie, Köln, Deutschland
Symptomania, Finnish Contemporary Art, Kunsthalle Lophem, Brugge, België (CD-Rom)
Narrando Espacios, Tiempos, Historias.../Talking about Space, Time and Stories, XXVII Bienal de Arte de Pontevedra, Portugal (Cat.)
Opening Hours, travelling exhibition, Statens Museum for Kunst, København, Danmark (Cat.)
Fotografie aus Finnland, Korrelaatioita, Fotogalerie Wien, Österreich (Cat.)
Kenen jäljillä?/Looking for Whom?, Salon Taidemuseo/ Art Museum of Salo, Suomi/Finland (Cat.)
Suomen taiteilijan 107. näyttely/107th exhibition of Artists Association of Finland, Helsingin Taidehalli/Kunsthalle Helsinki, Suomi/Finland
Omakuva (Selfportrait), Turun Taidemuseo/ Turku Art Museum, Turku, Suomi/Finland
2001
Omakuva (Selfportrait), Oulun Taidemuseo/Oulu Art Museum, Oulu, Suomi/Finland
6. Internationale Fototage, Herten, Deutschland (Cat.)
Inside/Outside Stories, Fundacion de San Miguel, Tenerife & Fundación Ideo, Las Palmas de Gran Canaria & Gallery Sala Amadis, Madrid, España (Cat.)
Kollisionen, Stadtgalerie Kiel, Deutschland
In a lonely place, National Museum of Photography, Film and Television, Bradford, UK (Cat.)
Tarkemmin ajatellen…, Hämeenlinnan Kulttuurikeskus/Hämeenlinna Centre for Cultural Activities, Suomi/Finland &
Kaapelitehdas/Cable Factory, Helsinki, Suomi/Finland (Cat.)
1999
Valokuvagalleria Hippolyte/Photographic Gallery Hippolyte, Helsinki, Suomi/Finland
Yksityisnäyttely, Galleria Naistenhuone, Helsinki, Suomi/Finland
1998
Me, myself and I, Gallery Taik, Helsinki, Suomi/Finland (Cat.)
1996
T.E.C.E., Arles, France
1995
Tampereen Nykytaiteen Museo/Tampere Museum of Contemporary Art, Tampere, Suomi/Finland
Sammlungen/ Works in public collections
Art Collection of the Finnish State
Oulu Art Museum Finland
National Museum of Photography Bradford
Finnish Museum of Contemporary Art Kiasma
Helsinki City Art Museum
Photo Museum Finland
DZ Bank, Frankfurt
Preise / Grants
2017
Stipendium Serlachius Artist Residency, Mänttä/Finnland
2009
Stipendium Cité international des Arts Paris 2005
5 Year State Grant and Project State Grant, Taiteen Keskustoimikunta/Arts Counsil of Finland, Suomi/Finland
2004
Project State Grant, Taiteen Keskustoimikunta/Arts Counsil of Finland, Suomi/Finland
Opetusministeriö/Ministry of Education, Suomi/Finland
2003
Project State Grant, Taiteen Keskustoimikunta/Arts Counsil of Finland, Suomi/Finland
Suomen Kulttuurirahasto/Finnish Cultural Foundation, Suomi/Finland
2002
Näyttelyvaihtokeskus FRAME, Centre for Art Exchange, Suomi/Finland
Opetusministeriö/Ministry of Education, Suomi/Finland
2001
Opetusministeriö/Ministry of Education, Suomi/Finland
Uudenmaan Taidetoimikunta/Arts Council of Province Uusimaa, Suomi/Finland
1 Year State Grant and Project State Grant, Taiteen Keskustoimikunta/Arts Council of Finland, Suomi/Finland
2000
Helsingin kulttuurikaupunkisäätiö/City of Helsinki, Suomi/Finland
Taideteollinen Korkeakoulu/University of Art and Design UIAH, Helsinki, Suomi/Finland
Project State Grant, Taiteen Keskustoimikunta/Arts Council of Finland, Suomi/Finland
Bibliografie / Bibliography
2011
The Helsinki School, Vol. 4 - A Female View, edited by Aalto University by Margarethe Hausstätter and Claudia Stein, texts by Andrea Holzherr and Timothy Persons, Helsinki
2007
Junge finnische Fotographie (cat.), Aino Kannisto, Eva Persson, Tiina Itkonen, Kettler, Bönen
2006
Cat. Aino Kannisto, Transit Art Space, Stavangar, Norge Ramon Esparza, Las intermitancias del yo /The intermittences of self, Cat. Aino Kannisto, Galeria Colon, Bilbao, España
2005
Cat. The Helsinki School – Photography by TaiK, text by Andrea Holzherr, Timothy Persons, Rupert Pfab, Ferdinand Protzman, Jorma Puranen, Hrsg. University of Art and Design Helsinki (TaiK), Hatje Cantz Verlag, Ostfildern-Ruit, Deutschland
Ritva Röminger-Czako, Blick nach Norden. Finnische Fotografie im Aufschwung
& Oliver Zybock: Von der Vision zum Traum. Die Säkularisierung der Einbildungskraft
& Statements und Fotografien von Aino Kannisto, Ville Lenkkeri, Henrik Duncker, Janne Lehtinen
in: Cat. zwischen traum und wirklichkeit, Museum der Stadt Ratingen, Bergkamen, Tuttlingen & Lüdenscheid, Deutschland
Tine Nygaard, Matisse &, Cat., Statens Museum for Kunst, Køpenhagen, Danmark
Cat. Centrum Kultury Zamek, PF Gallery, Poznan, Polen
Mikka Hannula, Die Liebesgeschichte des Jahrhunderts / The Love Story of the Century & Birgit Eusterschulte, Interviews mit/with Aino Kannisto u.a., in: Cat. Selbstauslöser (mit Elina Brotherus, Aino Kannnisto, Sanna Kannisto, Fanni Niemi-Junkola, Salla Tykkä), Kunsthalle Fridericanum, Kassel, Deutschland
2004
Uwe Schramm, Mundo silencioso / Schweigende Welt / Silent World & Ulf Erdmann Ziegler, Prolegómenos a una Obra en Azul y Blanco / Prolegomena zu einem Werk in Weiß und Blau / Prolegomena to a Work in Blue and White in: Cat. Staged Photographs, 51 Salón Internacional de Fotografía, Centro Cultural Cajastur Palacio Revillagigedo, Gijon, España
und in/and in: Cat. Staged Photographs, Kunstverein Münsterland, Coesfeld, Deutschland
Sigrid Schneider/Stefanie Grebe (ed.): Wirklich wahr! Realitätsversprechen von Fotografien, in: Cat. Ruhrlandmuseum Essen; Hatje Cantz Verlag, Ostfildern-Ruit, Deutschland
Cat. Women2003, København, Danmark & Göteborg Sverige
2003
Cat. Vieraanvaraisuuksia, Pirkanmaa Arts Council, Suomi/Finland
Cat. Gogann, Gallery Fleur, Kyoto Seika University, Kyoto, Japan
Cat. Trasparente, Museo Nazionale delle Arti del XXI Secolo, Roma, Italia & FRAME, Finland
2002
Cat. The built and the living, Café Créme, Luxembourg
Symptomania, CD-Rom, Kunsthalle Lophem, België
Marja-Terttu Kivirinta: Aino Kannisto, in: Cat. Minä Sinä Me/MoiToiNous, Parcours Photographique Finlandais, Institute Finlandais, Paris, France
Marja-Terttu Kivirinta: La jeunesse sur la scène de sa vie, in: Cat. Mois de la Photo a Paris
Cat. Narrando Espacios, Tiempos, Historias.../Narrating space, time and stories, Pontevedra Art Biennial, Diputación de Pontevedra, España
Cat. Looking for Whom?/Kenen jäljillä?, Salon Taidemuseo/Art Museum of Salo, Suomi/Finland
Aino Kannisto: Oma kuva (Self Portrait), in: Kaltio, (cultural magazine), 2/2002, Oulu, Suomi/Finland
Cat. Opening Hours, Statens Museum for Kunst, København, Danmark
2001
Marja-Terttu Kivirinta: Näyttelijä omassa tarinassaan: Pinx., Arki ja pyhäpuvussa, Maalaustaide Suomessa (Art of Painting in Finland), W&G, Porvoo, Suomi/Finland
Patrick Henry: In a Lonely Place, in: Cat. National Museum of Photography, Bradford, GB
Cat. Inside/Outside stories, Sala Amadis, Madrid, España
2000
Kunstmagasinet 1%, spring/summer 00, København, Danmark
1998
Cat. Me, myself and I, University of Art and Design UIAH, Helsinki, Suomi/Finland