Biography of Stephan Schenk
*1962 in Stuttgart
Lives and works in Lüen, Grisons, Switzerland
Schenk mostly works on long-term photography projects. He often travels to places in different countries in order to examine certain aspects in a conceptual way. In his series "Aussicht mit Zimmer", for instance, he photographed the view from various hotel rooms around the world, amongst others in Switzerland, France and Italy as well as in Australia and Japan.
For the series "Kreuzweg" (The Way of the Cross), Stephan Schenk travelled to World War I battlefields. The latter series has been on view in the Fotostiftung Schweiz in Winterthur and Galerie m Bochum in 2014, in the Dommuseum Hildesheim in 2015 and in the Mauermahnmal in Berlin in 2016.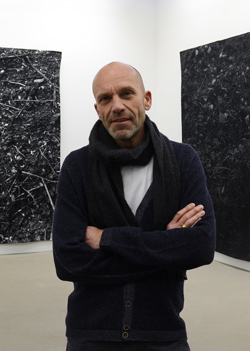 Solo exhibitions
2020
LOOKING AROUND Chur
, Stadtgalerie Chur
2017
Kreuzweg. Fotografien & Tapisserien
, Kunstraum Oktogon, Bern
2016
Kreuzweg
, Mauer-Mahnmal, Berlin
2015
Kreuzweg
, Dommuseum Hildesheim
Waldpanorama
, Galerie m Bochum
2014
Stephan Schenk | Kreuzweg
, Galerie m Bochum
1914/18 Stephan Schenk, Kreuzweg
, Fotostiftung Schweiz
2009
Stephan Schenk. Aussichten/Horizonte
, Kunsthalle Ziegelhütte, Appenzell
2008
Stephan Schenk. Horizonterweiterung
, Kunst in der Südostschweiz, Chur
2006
Stephan Schenk. Fotografien
, Voutexpo, Lavin
Aussicht mit Zimmer
, Parkhotel Flims Waldhaus
2004
Stephan Schenk. Wälder-Panoramen
, Kunsthandel Vonlanthen, Chur
2000
Stephan Schenk. Bergwelten
, Gebäudeversicherung Graubünden, Chur
1998
Galerie Roser, Stuttgart
1995
Stephan Schenk. Wege
, Internationale Phototriennale, Esslingen
Group exhibitions
2022
Passagen
, Kunststiftung DZ Bank
2021-2022
in:
Between Worlds
, Galerie m, Bochum
2020
Werden-Vergehen-Werden
, Segantini Museum, St. Moritz
2019
Galerie m | 3. Mai 1969 - 3. Mai 2019
Nachbarn - Freund und Leid
, Sankt Urban Hof, Sursee
2018
LAND__SCOPE.
Photographs from Roni Horn to Thomas Ruff from DZ BANK collection, Münchner Stadtmuseum
2017/18
Hallo, Nachbar! Der tägliche Tanz um Nähe und Distanz
, Vögele Kultur Zentrum, Freienbach
2016
Hopes of Paradise
, Galerie m Bochum
2015
Die Idee der Landschaft
, DZ Bank Kunstsammlung, ART FOYER, Frankfurt
2014
Foto Szene Graubünden
, Photobastei, Zürich
Jenseits der Ansichtskarte. Die Alpen in der Fotografie
, Vorarlberg Museum, Bregenz
2013
Jenseits der Ansichtskarte. Die Alpen in der Fotografie
, Waiblingen Hotel, Galerie Luciano Fasciati, Chur
2012
Work Work Work
, Museum Liner, Appenzell
2010
FOTO SZENE GR. Albert Steiners Erben
, Bündner Kunstmuseum Chur
Director's Choice
, Bündner Kunstmuseum, Chur
2009
Berg Welten
, Voutexpo Lavin
2002
Jahresausstellung der Bündner KünstlerInnen
, Bündner Kunstmuseum Chur
Der Berg
, Heidelberger Kunstverein, Heidelberg
bergANsichten
, Schwabenakademie, Irsee
2001
Jahresausstellung der Bündner KünstlerInnen
, Bündner Kunstmuseum Chur
Public and privat collection
BAYWA, München
Bündner Kunstmuseum, Chur
Commerzbank, Stuttgart
Deutscher Bundestag, Berlin
Dommuseum Hildesheim
DZ Bank, Frankfurt
Fotostiftung Schweiz, Winterthur
Flury Stiftung, Schiers
Gebäudeversicherung Graubünden, Chur
Graubündner Kantonalbank, Chur
Kantonale Sammlung Graubünden, Chur
Kunstmuseum Appenzell
Landesbank Baden-Württemberg, Stuttgart
St. Claraspital, Basel (privat)
Stadt Chur (privat)