Work of art by Stephan Schenk
Photographer Stephan Schenk prefers to work on long-term projects, that can overlay each other. Within the scope of his approach he often brings together different places in different countries.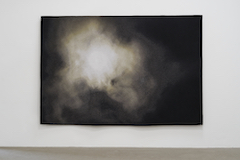 Insomnia 2, 2021, Tapestry, 190 x 280 cm
Dreamer
Dreamer
is a work about states of mind caught up between dream and reality, between loneliness and hope. The work comprises three motifs and deals with solitude, anxiety, pain, and loss.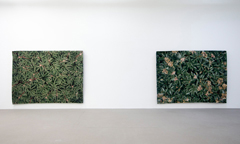 Werden Vergehen, 2015/16
tapestries
2 parts, each 210 x 280 cm
Werden Vergehen
After his intense examination of suffering, death and cruelty in his series
Kreuzweg
about World War I, Stephan Schenk seeks to conclude this matter with his work
Werden Vergehen
. The diptych shows peonies before and after bloom. Once again Stephan Schenk works with tapestries here.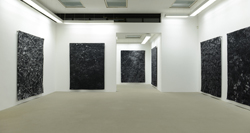 Exhibition view
1914/1918 - Stephan Schenk, Kreuzweg
Winterthur, 2014
Kreuzweg
For his series "Kreuzweg" Schenk visited embattled fields of Worldwar I. The series was exhibited in the Fotostiftung Schweiz in Winterthur (2014) and afterwards at Galerie m Bochum (December 2014), at the Dommuseum Hildesheim (February 2015) and at the Mauer-Mahnmal in the German Federal Parliament (2016/17).
"Kreuzweg" consists of 14 photos, presented as
tapestries
.
Furthermore exists a portfolio with silver-gelatine prints on baryt paper.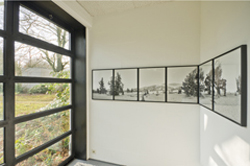 Exhibition view Stephan Schenk | Waldpanorama
Bochum, 2015
Waldpanoramen | Forest Panorama
In the series
Forest Panorama
Schenk shows the viewer an overview of the forest just from one point of view.
Subject of the series is the forest in the broadest sense, its plurality of meaning for human life and the question of our perception.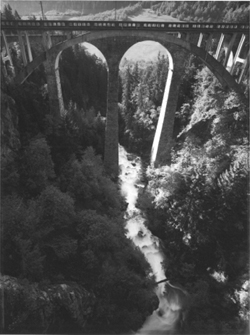 Val Russein, 1999
Bergwelten | Alpin Worlds