Biography
1957 born in Phnom-Penh, Cambodia, Yannick Koller mainly lived in Asia (for 20 years) and in London (for 7 years). Today she resides in Paris.
Studies:
History of Art and Archaelogoy, Sorbonne, Paris
Graduated in Chinese Language and Civilisation -Oriental Studies (INALCO) Paris & Académie Aix-en-Provence
Master in Fine Arts (Dir. Anne-Marie Duguet), Sorbonne, Paris
Electroacoustic composition course, Paris
Her intercultural and multidisciplinary approach as an artist drove her towards photography,
short films, visual and sound installations, as well as, work on electroacoustic compositions.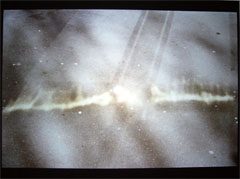 Light Line, Ilfochrome, 2007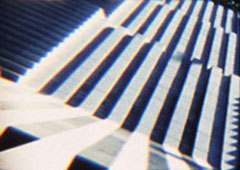 Motion, 2000, color, silence, 4'12
Amongst others, Yannick Koller presented her films in the context of the following events and exhibitions
:
2000
Paysage
, 'La Beauté' in Avignon (cat.)
2001
Infusion
, Château de Plaisir
Motion
, 'Rencontres internationales vidéo', Contemporary Art Centre Basse-Normandy (cat.)
2002
City Move
, 'Liaisons secrètes', Brussels' Central Station
2003
Erosion fraîche
, 'Festival international des musiques et créations électroniques', Bourges
Motion, City Move, Snail
und
Lisboa
in Paris Photo
'Festival international des musiques et créations électroniques', Bourges
2004
short cuts/8 Super-8-Films
, Galerie m Bochum, Bochum
Büro für Fotos, Köln
'Festival international des musiques et créations électroniques', Bourges
short cuts/8 Super-8-Films
, Galerie m Bochum at Paris Photo, Paris
Cité de la Musique, Marseille
City Move
, and performed, at the same time, the sound projection of
IntenCity
(a co-composition from Yannick Koller & Ana Dall'Ara Majek)
3e Forum de la jeune création musicale
, 'International Society for 'Contemporary Music', Paris
3e Forum de la jeune création musicale,
L'Archipel, Strasbourg
2005
Motion
,
Terra Infirma
Espai d'Art Contemporani de Castelló,
www.culturalcas.com
2006
Summertime
,
Galerie m, Bochum
Motion, Lisboa, City Move
and
Ochre
at Scratch Projection,
The Voutes
, Paris
2007
Kurzfilme von Yannick Koller
, ARSENAL - Kino, Berlin
Texts from Yannick Koller
Die Kallikinegraphie oder Das Einfangen von Vibrationseigenschaften des Realen auf Film
, in: L'art pour l'art, N° 5, Berlin, 2007. You find the link to the text at
Informations