short cuts / short films, 8 Super-8-Filme
The artist about her artistic mode: "In fact, my artistic approach questions and apprehends the world according to an intangible though fully present perceptive mode that allows me to capture the rhythmic vibrations of objects and space. (...)" From: "Die Kallikinegraphie oder Das Einfangen von Vibrationseigenschaften des Realen auf Film", in: L'art pour l'art, N° 5, Berlin, 2007)

To get more information go to: "Callicinegraphy": Kallikinegrafie

Kollers films "short cuts" act as an impressive presentation of this statement.
They show a combination of visual improvisation with direct camera shooting and free manipulation of the camera. The high tempo structure of her films is syntonized with the rhythmic vibrations of objects and spaces that the artist captures as her primary working material.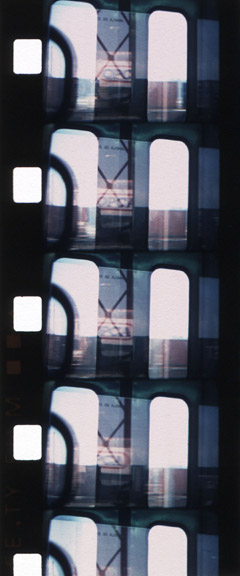 Lisboa, 2002
Super 8, color, silence, 6'12
short cuts / short films
8 Super-8-Films

"Yannick Koller produces works that, according to moment and location, to material and language, conjugate and offer, through sharing, a liberating experience of time and space. Psychological singularity, current social reality and their interaction are but the forces within one phenomenal dimension that has to be dislocated in order to access to other dimensions or in order that these (dimensions) access (to that one).
There is a moderation in the chosen materials, objects and means. There is a displacement or a diversion of cognitions and functions, a subtle reappropriation of the tribe's tools that keeps them in a state of discord, causing them to deliver and raise another sensory and metaphysical meaning."
Excerpt from L'entreprise qui est de longue haleine remonte loin dans le temps - A propos des travaux de Yannick Koller, by Charles Hersperger in « Pratiques - Réflexions sur l'art - N°12 » (Presses universitaires de Rennes, printemps 2002). È Pratiques


MOTION shows water and light movements where images stream across the screen at accelerated speed to end at a slow hypnotic course. Contrasts appear out of static and fluid shots, camera movements - either rotative or staccato -, and the alternation of geometrical and abstract shapes. Super 8, col., sil., 2000, 4'25 (Paris, Nîmes, Avignon)

CITY MOVE an urban journey in three successive parts: day/night/day. Following the rhythm of cities, the images fly, precipitate, stand still, superimpose, split up, invert and confront each other. In the nocturnal phase, colours punctuate or sweep across the screen. Super 8, col., sil., 2001-2002, 7'48 (Paris, Lausanne)

SNAIL, a performance in the woods ('Biostriptease' by Katia Feltrin) shows snails eating up a dress made of salad leaves sewn on the body. The vegetal material slowly disappears and leaves but an architecture of threads. This film masticates the duration of the performance in order to digest it into condensed images that are grinded between blurriness and clearness and blown up under the voracious eye of the gastropods. Super 8, col., sil., 2001, 3'49 (3 loops) (Ste Apolline forest)

LISBOA, the structure of the film is based on two different rhythmic parts: Firstly, the tranquil journey in the coastal train of Lisbon's outskirts, where from it's doors, sceneries superimpose, diverge or cross each other. Secondly, a crash dive into the cities architecture creating crackling azulejos and gleaming surfaces, capsized panoramic views and swaying buildings. Super 8, col., sil., 2002, 6'12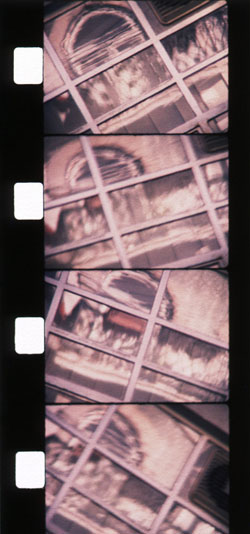 Lisboa, 2002, Super 8, color, silence, 6'12
OCHRE, hectic, unstable strokes are shot over a rich and rough ochre surface in a construction yard on a windy day. The images invite one to feel the physical awareness of the ochre substance. Super 8, col., sil., 2003, 2'40 (Santiago de Compostella)

REFLECTION, die Vereinahmung der Stadtarchitektur durch ihren eigenen Spiegel schafft Platz für ein, capturing the city's architecture through it's own looking-glass makes way for a visual echo: an interchange of condensed and distorted images through projection, reflection and diffraction. Super 8, col., sil., 2002-2003, 4'40 (Lisboa)

NIGHT LIGHTS, an artificial constellation sparkles with varying micro movements that interfere with the macro luminous mass equally on the move. Visual dissonance, dephasing and diverging of light sources emerge. Super 8, col., sil., 2002-2003, 6'50 (London)

COMPOSTUM is the Latin word for cemetery. The camera starts to explore the finer details of its architecture and slowly reveals the rigor, alignment and perspective of the whole site. Another formal structure appears through the contrasts of rhythm and lights. Super 8, b/w, sil., 2003, 4'30 (Santiago de Compostella)