Biography of Richard Serra
* 2.11.1939 San Francisco, Kalifornien
Life and Works
1957-1961
Studies at the University of California at Berkeley und Santa Barbara, graduating as Bachelor in English literature.
1961-1964
Studies at Yale University in New Haven/Connecticut, earning B.A., M.A. and M.F.A in creative arts. Works with Josef Alberts on his book
The interaction of Color (1963)
.
1964-1965
Spends one year in Paris, having a grant of the Yale University. Comes into contact with Philip Glass.
1966
Spends one year in Florence on Fulbright grant. Has first one man exhibition at the Gallery La Salita in Rom. Travels to Spain and North Africa. Moves to New York.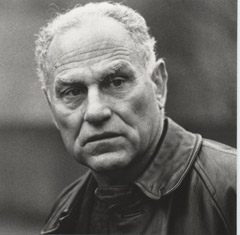 Richard Serra 1989

1967
Makes series of rubber and neon-tubing works and scatter pieces.
1968-1969
Begins cooperation with Leo Castelli Gallery, New York. Makes series of molten- and cast-lead works (Splashing and Castings) and series of lead rolls and lead props. Props on exhibition at Teh Solomon R. Guggenheim Museum in New York. Makes first studio fils and begins linear drewings. Begins to work in steel: Constructiions Skullcracker series on grounds of Kaiser Steel Corporation, Fontana, California, in conjunction with the Art & Technology Program of Los Angeles Country Museum of Art. Starts series of large, interior steel installations, begins working with strutural engineers. Makes series of cut and sawed pieces. Collaborates with Joan Jonas on viedeo, film and performance. First one man exhibition in United States at Castelli Warehouse. Makes
Splash Piece
: Casting in Jasper Jone´s studio. Participates in show exhibitions, f. ex.
New Media, New Methods
at Museum of Modern Art, New York,
Op Losse Schroeven
, Stedelijk Museum Amsterdam, and
When Attitudes Become Form
at Kunsthalle Bern.
1970
Travels to Japan. Participates in Tokyo Biennale. Installs
To Encircle Base Plate Hexagram, Right Angles Inverted
in Ueno-Park/ Tokyo. Works in Kyoto. Receives Guggenheim Fellowship. Installs
To Encircle Base Plate Hexagram, Right Angles Inverted
in a street in the Bronx, New York. Starts series of large outdoor urban and landscape works, with Pulitzer Piece:
Stepped Elevations
in St. Louis and
Shift
in King City, Kanada, work with large scultpures in the landscape.
1971
Initiates first black canvas drawings.
1972
Exhibition of
Circuit
at
documenta 5
in Kassel.
1975
Receives Sculpture Award from Skowhegan School of Painting and Sculpture. Films
Railroad Turnbridge
in Portland/Oregon. Beginns cooperation with Alexander v. Berswordt-Wallrabe, Galerie m Bochum.
1977
Exhibits drawings at the Stedelijk Museum, Amsterdam. Works at Thyssen steel mill, Heinrichshütte, Hattingen, West Germany on
Berlin Block for Charlie Chaplin
for Nationalgalerie, Berlin. Shows
Terminal
on
documenta 6
in Kassel. Installs the sculpture in the courtyard of galerie m, Bochum.
1979
Commissened by General Services to create permanent sculpture for Federal Plaza, New York. Films
Steelmill/ Stahlwerk
in Thyssen mill with Clara Weyergraf. Wet German CDU party critisizes installation of
Terminal
in Bochum.
1980
St. John's Rotary Arc
and
T.W.U.
installed in New York. Installation of
Wrights Triangle
at Westerm Washington State University. , Bellingham and landscape work at Wenkenpark, Riehen, Switzerland.
1981
Tilted Arc
installed at Federal Plaza, New York. Receives Kaiserring Award from city of Goslar, Germany and installs
Gedenkstätte
.
1983
Receives honorary fellowship from Bezalel Academy, Jerusalem. Travels to Japan. One man exhibition at Centre Pompidou, Musée National d´Art Moderne, Paris, installing Clara-Clara in the Tuileries Gardens at Place de la Concorde in conjunction with show. Installs
Fassbinder
in Westfälischen Landesmuseum, Münster, Germany.
1984
Installs
La Palmera
and designs plaza at La Verneda, Barcelona, Spain. Installation of
Slat
at La défense, Paris and Seans´s Spiral in Dublin.
1985
Installs Clara-Clara at Square de Choisy in Paris. Commissioned to produce sculpture for hispital in Nagoya, Japan. Installs
Carnegie
, a vertical sculpture at Museum of Art, Carnegie Institute, Pittsburgh. Receives Carnegie Medal.
1986
Opens
Retrospektive
at Museum of Modern Art, New York. Builds
Olson
and
Call me Ishmael
. Conceives and builds site-specific indoor installation
Equal Parallel: Guernica-Bengasi
for Centro de Arte Reina Sofia, Madrid. Installs landscape work
Porten i Slugten
at the Louisiana Museum, Humlebæk, Denmark.
1987
Installs
Berlin Junction
in front of Martin-Gropius-Bau, Berlin, Germamy. Builds
Street Levels
and
Spiral Sections
for
documenta 8
, Kassel. Begins series of flat steel wall props. Opens show
Seven Spaces - Seven Sculptures
; the museum decides to purchase the entire installation for permanent exhibition at Lenbachaus, München.
1988
Installs 50 ton forged round
One
in the sculpture park of the Rijksmuseum Kröller-Müller, Otterlo, Niederlande. Installs
Maillart Extended
(two part post and lintel piece) at the opposite ends of pedestrian passage of Grendfey Viaduct, bridge between Fribourg and Bern, Switzerland. Exhibits
Zeichnungsinstallationen
at Kunsthalle Basel. Exhibits ten sculptures at Van Abbemuseum, Eindhoven, the Netherlands.
1989
Tilted Arc
is destroyed by the United States Government on March 15. Installs
Axis
, open vertical, site-specific construction juxtaposed to the Philip Johnson building of the Museen der Stadt Bielefeld, Germany.
Circuit III
installed in 38 foot square room, 4 plates, each 12´x 25`. The work is part of
Situation Kunst
, Ruhr-University Bochum, Germany. Begins to work with Min Tanaka at Opera Comique, Paris on dance performance to open october 1990 in conjunction with Festival d´automne. .
1990
Installs
Stacks
at Yale University Museum. Installs in the context of solo exhibitions
The Hours of the Day
at Kunsthaus Zürich, Switzerland and
Threats of Hell
at capc Musée d'art contemporain, Bordeaux, France. Installs
Afangar
at the island Videy, near Reykjavik, Island. Exhibits
Tekeningen/Drawings
at Bonnefantenmuseum Maastricht.
1991
Receives Wilhelm-Lehmbruck Award for sculpture in Duisburg, Germany. Installs
Octagon
for St. Eloi in front of Église St. Martin, Chagny, France. Commission for a sculpture for the US Holocaust Memorial Museum in Washington DC. Installatio of
Schunnemonk Fork
at Storm King Art Center, Mountainville, New York.
1992
Exhibits site-specific work
Weight and Measures
at the Duveen Galleries of the Tate Gallery, London. Retrospective at Centre de Arte Reina Sofia, Madrid, Spain. Exhibits
Running Arcs
(for John Cage) at Kunstsammlung Nordrhein-Westfalen in Düsseldorf and >The Drowned and the Saved at the synagoge of Stommeln near Cologne. Installation of
Intersection
at Theaterplatz, Basel. T.W.U. purchased by the City of Hamburg. Installs permanent casting peice,
Gutter Splash, Two Corner Cast
at De Pont Foundation in Tilburg, Netherlands. Installs
Torque
on the campus of Saarbrücken University, Germany. Exhibition of
Graphik aus den Jahren 1989 bis 1922
at Saarlandmuseum Saarbrücken. Installs
Greenpoint
on the campus of the university of Nebraska in Lincoln. Receives Sculpture Center Award for Distinction in Sculpture, New York. Exhibition
Gravures
at Musée d´Art Moderne de Céret, France.
1993
Installs
Elevations
for L'Allée de La Mormaire near Paris.
1994
The Hours of the Day
permanently installed at Bonnefantenmuseum, Maastricht, The Netherlands. Exhibition of
Drawings and Prints
at the National Museum of Art, Osaka. Exhibition of
Weight and Measure Drawings
at Drawing Center, New York.
1996
Installs
Exchange
at Plateau Kirchberg, Luxemoburg. Completes landscape work
Sea Level
, in Zeewolde, The Netherlands. Installation of
Crottorf Elevations for Hermann Hatzfeldt
in Crottorf, Germany, and of
Dialogue with Johann Conrad Schlaun
at the Rüschhaus in Münster, Germany. Installs splash piece
Measurements of Time (Seeing is Believing)
at Hamburger Kunsthalle, Hamburg.
1997
The
Drowned and the Saved
installed in the ruins of St. Kolumba church, Cologne. Installs
Snake
in the Guggenheim Museum, designed by Frank O. Gehry, in Bilbao, Spain. Exhibits
Torqued Ellipses
at Dia Center for the Arts, New York.
1998
Installs
Lemgo Vectors (Elevations for Walter)
in the STAFF landscape park, Lemgo, Germany. One-artist-exhibition at MOCA Museum of Contemporary Art in Los Angeles. Installs
Bramme (für das Ruhrgebiet)
on top of the Schurenbachhalde, a slagheap in Essen, Germany.
1999
Solo Exhibition at the Guggenheim Museum Bilbao (
Torqued Ellipses
) and the
Mercati di Traiano
in Rome. Exhibits
Druckgrafik 1972-1999
at Museum Kurhaus Kleve, k/haus Künstlerhaus Wien, Staatsgalerie Stuttgart, Kunstsammlungen Chemnitz, SMAK Stedelijk Museum voor actuele Kunst, Gent.
2001
Exhibits
Torqued Spirals
at Venezia Biennale, Italy.
2003
Honoured as a member of the order
Pour le Mérite
for scientists and artists in Berlin, Germany. Exhibits
Naples
at Piazza del Plebiscito in Neapel, Italy.
2004
Solo exhibition at
Museo Archelogico Nazionale
, Neapel. Installs
Dirk's Pod
at Novartis Campus, Basel.
2006
Summertime
,
Galerie m, Bochum
, group exhibition
2007
Sculpture: Forty Years
, The Museum of Modern Art, New York 2008
Zeichnungen und Druckgrafik,
Museum für Gegenwartskunst, Siegen
Monumenta
, Grand Palais, Paris
Black and Dense
, Kunsthaus Bregenz
Filme
, KW Institute for Contemporary Art, Berlin
2011
Paperworks
, Museum Pfalzgalerie Kaiserslautern, Kunsthalle Rostock
Richard Serra Drawing - A Retrospective
, The Metropolitan Museum of Art, San Francisco Museum of Modern Art
Brancusi | Serra
, Fondation Beyeler, Riehen near Basel
Extended Drawing
, Bonnefantenmuseum, Maastricht
2013
Richard Serra in:
Moving. Norman Foster on Art
, Carré d'Art - Musée d'Art Contemporain, Nîmes
2015
in:
Green City. Geformte Landschaft - Vernetzte Natur. Das Ruhrgebiet in der Kunst
, Ludwiggalerie Schloss Oberhausen
Druckgrafik
, Galerie m Bochum
gleich und gleich und gleich und anders. Serialisierungen in der Kunst seit den 1960er Jahren
, Situation Kunst, Bochum
2017
Drawings 2015-2017
, Museum Boijmans Van Beuningen, Rotterdam
in:
Props, Films, Early Works
, Museum Wiesbaden
in:
FARBE
, KunstRaum, Duisburg
2019
in:
Negativer Raum
, Zetrum für Kunst und Medien, Karlsruhe
kunstgebiet.ruhr
tour from Bochum to Duisburg, that conncts seven works in public space by Richard Serra
2019
Galerie m | 3rd May 1969 - 3rd May 2019
2020
in:
on paper- on colour
, KunstRaum, Duisburg