Work of art by Richard Serra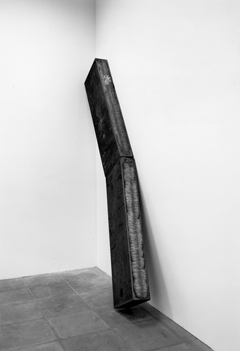 Spine (for Max Imdahl), 1988
Steel
2 bars, each 152 x 53 x 18 cm
Steel Props
The perception of the work in its state of suspended animation, arrested motion, does not give one measurable truth but a sense of presence, an isolated time. The apparent potential for disorder, for movement, endows the structure with a qualtiy outside of its physical relational definition.
Richard Sera, in: Sculpture 1985 - 1998, The Museum of Contemporary Art, Los Angeles/Steidl, Göttingen, 1998, p. 57
Sketch #5, 1981
lithography, 71 x 56 cm


Prints
"Without a doubt, Serra's works assume a prominent position in the graphic art of the present day. The radicality with which he continuously expands the boundaries of technical, formal, and content-based conventions through new developments corresponds with the intensity of the experiences which his works make possible. In an advanced age of technical reproducibility, Richard Serra creates graphic works with an aura which one can hardly resist."
Silke von Berswordt-Wallrabe in: Richard Serra - Prints.
Catalogue Raisonné 1972-1999
Choice of prints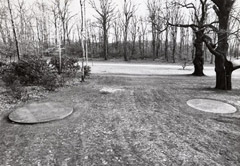 Elevational Circles: In and Out, 1972-77
Park Weitmar, Bochum




Elevational Circles 2 round steelplates, each 295 cm diameter, 7 cm thickness,
installation in the park area of Haus Weitmar Bochum

Richard Serra's work Elevation Circles takes advantage of the natural conditions in space, as two identical elements unfold an intersting contrast. One is set into and the other just lies on the ground. On the one hand, Serra highlights the integration of objects into a given environment. On the other hand he alludes to the moment of differentiation and distraction, where something is disangled and put apart. Thanks to the different positions in space, each of the identical plates gains its specific character. As a result, space-principles, integration and differentiation, get a clear visual illustration. In a metaphorical sense, this recalls the general process of an identity, which spreads out into numerous aspects.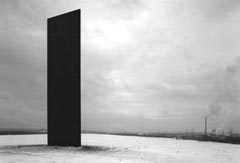 Bramme (für das Ruhrgebiet)
14,5 m x 4,2 m x 13,5 cm
Gewicht 3 Tonnen




Bramme (für das Ruhrgebiet)
Rolled steel, 14,5 m height, 4,20 m lenght, 13,5 cm thickness
installation on the Schurenbach pithead, Essen
In 1998 the Bramme für das Ruhrgegiet originates. On the authority of the IBA and the KVR, Richard Serra succeeded in setting another patterns for the art of landmarks. The work stands in the middle of a vast open plain, shattering its horizontality – as a tribute in steel to the industrial region of the Ruhr, as its name suggests. Evoking the chimneys of the region's steel foundries, Serra's work punctuates the landscape by resonating with the architecture glimpsed in the distance, on the horizon.
Pictures
Location Plan