Wegner works with common material in an absolutely uncommon way.

What seems to be impossible at first sight, Wegner realizes in his amazing installations. For example, paperstacks that seem to be as massive as a stony wall.
Other works focus on the fragility of paper and impress with their elegance and creativity. Against the nature of the material, they compose beautiful sculptures.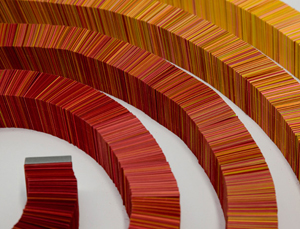 RED LABYRINTH (detail), 2008
paper, cable, 2 metalpieces, ø 112 cm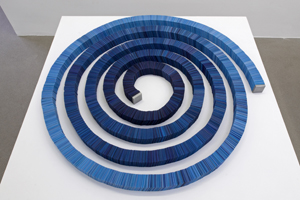 BLUE LABYRINTH, 2008
paper, cable, 2 metalpieces, ø 112 cm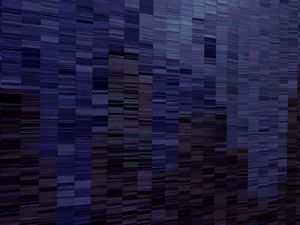 TWO DARKS, 2004
Paper, installed: 152 x 305 x 10,2 cm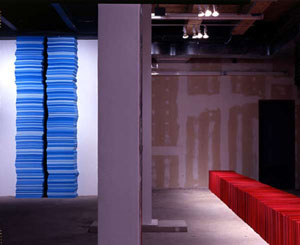 FLOOR-TO-CEILING BLUES WALL-TO-WALL REDS, 2004
4 x 1,5 x 0,5/0,5 x 0,6 x 21 m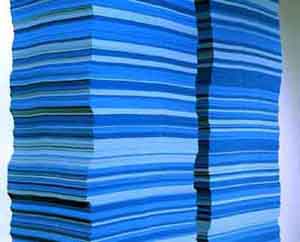 FLOOR-TO-CEILING BLUES, 2004
Paper, 396 x 142 x 51 cm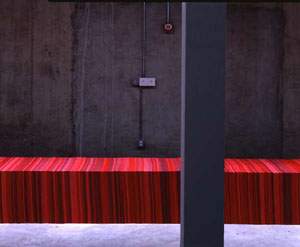 WALL-TO-WALL REDS, 2004
paper, installed: 56 x 2130 x 101 cm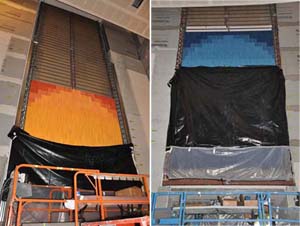 Installation Shot, Las Vegas, 2009
"In his poem "The Continous Life," Mark Strand writes, "Explain that you live between two darks, the first / With an ending, the second without..."

This piece physically contains the metaphor within a wall, which functions like the white space surrounding a poem on the page. The metaphor itself remains open-ended.Two Darks might be an urban horizon at dusk, or a bar graph charting the shifting fortune of unknown variables." ###### "These stacks of paper are codes, loose algorithms of color extending to fill the space and time allotted. each begins and ends at an architectural plane - ceiling, floor, wall."###### "According to tradition, the geometry of a labyrinth should be rectilinear or biomorphic. It should be symmetrical or asymmetrical. It signifies order or chaos. The point is to get the center of the labyrinth; or the center is you, wherever you are as you moev through it, and that#s the point; or there's some other point but no one knows what it is; or there is no point."

(Aus: P,E,T,E,R,W,E,G,N,E,R, Introduction and notes, Santa Monica 2007)