Paintings by Caroline von Grone
Capturing the moment
Caroline von Grone describes her approach, the "capturing and realizing of her subject matter in painting" as "detached distance of observation", an "elimination of processes of thinking in favour of those of observing".
Belinda Grace Gardner/Caroline von Grone, in Frisch gestrichen, 2005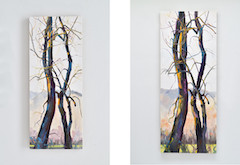 Baumpaar 1& 2
Baumpaare (pairs of trees)
The trees sometimes seem like a closely entwined couple, rooted in place, unable to free themselves from their precarious position.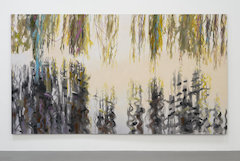 Weidenwasser 11, 2020
Weidenwasser (Willow Water)
The paintings in Caroline von Grone's series Weidenwasser (Willow Water) straddle the borderline between nature observation and abstraction.

What I see connects me to nature, to the object of my vis-à-vis, on a very deep level. The beauty of the colors, the extraordinary forms are always new and different. Such a scene motivations me all on its own. It reminds me of something symbolic, but it can also simply be itself. At the same time, it gives me hope. The image is at once figurative and quite abstract. That's what I try to paint. Entirely representational and yet abstract. Painting this way will always be new. If photographic color could achieve the same effect, I might take pictures. But they are two different worlds.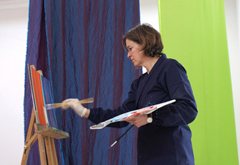 Galerie m Bochum
ColorSpacePortraits, February 2011

Portraits
"Caroline von Grone finds her subjects through "observation", as she puts it, "without making them up". The 'finding' takes place via her razor-sharp perception as she meticulously notices even the tiniest details in all their brevity. But when she captures these brief moments, she preserves their vagueness and fleetingness - in contrast to her motionless models."

The artist works on site, no matter if it's a draughty subway station, a building lot in the neighbourhood, or her sitting-room. Especially everyday places and sceneries fascinate the artist. Over a longer period she documents the subtle changes with photos, sketches and paintings.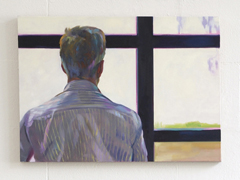 mbb 5 (Herr Schumann), 2010
oil on canvas, 55 x 77 cm
"Painting is the space occupied by Caroline von Grone which is comparable with neither optical perception nor photograhy. "What looks ununprepossessing in reality or flat in a photo can acquire enormous depth in a painting," says the artist, describing her intentions as "visual resarch".
(Claudia Herstatt in Frisch gestrichen, 2005)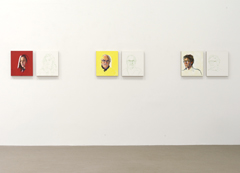 Double Reflection, Galerie m Bochum, 2017
Double Refelction
Double Reflection
consists of sets of two portraits showing the same sitter in the same pose. The artist paints one image in color on canvas directly after the model, and the second is rendered as an oil sketch on a white background after a photograph. The artist is working with people from all walks of life, among them completely random encounters.
The exhibition
Double Reflection
was exhibited in 2017 at Galerie m Bochum.
Artist talk between Caroline von Grone and Melanie Manchot (German)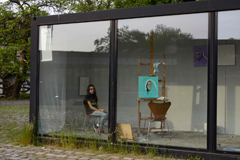 Painting Project Lehmbruck Museum
Painting project at the Wilhelm Lehmbruck Museums in Duisburg
18th of may bis 9th of june, 2016
For first information please click
here
.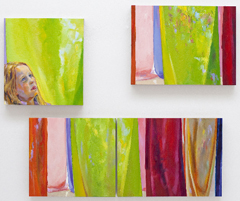 Farbraumporträt (Clara), 2011
Oil on canvas, 4 parts, min. 94 x 107,5 cm
ColourSpacePortraits
Exceptional portrait events are the
ColorSpacePortraits
. The setting consists of a room which is filled with colorful draperies. The model itself arranges the draperies and locates the position in the room. In 2011 Caroline von Grone set up an atelier for ColorSpacePortraits at Galerie m Bochum.
You find a short film about the event at
www.bochumschau.de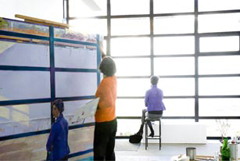 Galerie m Bochum, 2009
Do you see me?
In the course of portrait events, Caroline von Grone portrays different people at conceptually chosen and designed places. In 2008 Caroline von Grone began with a series of Portraits that picture the models in front of Galerie m Bochum's characteristic windows. In 2010 she continued the series as part of the exhibition
Do you see me? | Siehst du mich?
which dealt with portait in painting, film and photography.
Further images about
Do You See Me? | Siehst Du Mich?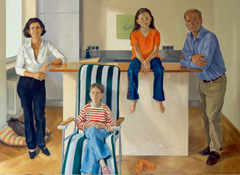 Commissioned Portraits
Commissioned portraits can be realized in different ways. It is essential for Caroline von Grone to get in contact with the clients in order to develop their individual concept, setting and pose in close collaboration.
Please click
here
for examples of painted portraits.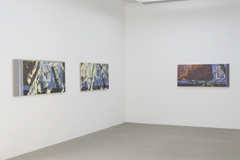 Exhibition view Blick nach Osten | Looking East
Galerie m Bochum, 2015
Blick nach Osten
The new series
Blick nach Osten (Looking East)
records the view from a picture window in the painter's studio – of the crown of a chestnut tree in front of the house opposite. Caroline von Grone observes the different seasons with their specific light and atmosphere.
The complete series of
Blick nach Osten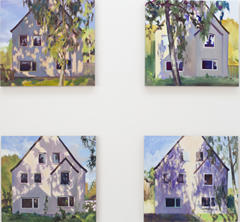 Himmelsleiter Front Sonnenlicht, 2009
Oil on canvas, 4 parts, each 70,4 x 77 x 3,2 cm


Himmelsleiter
Behind the poetic title
Himmelsleiter
(which can be translated as "Jacob's Ladder" or also "Stairway to Heaven") is the name of a widows' housing estate built in 1948 in Kiel, which is slated for imminent demolition to make way for a profitable new housing development. The artist has occupied herself with this estate since 2008, painting it in various lighting conditions and seasons. From four perspectives and in three formats Caroline von Grone has documented the play of light across the facades, the landscape surrounding the buildings and the step-by-step demolation. In 2011/12 Galerie m Bochum has shown the project Himmelsleiter in a
solo-exhibition
.