Works of art by Lena von Goedeke
Lena von Goedeke´s works - painstaikingly manufactured paper cuts, penderous, while seemingly hovering landscapes made of concrete sand, delicate drawings, dragging themselves across the entire wall - have to be witnessed in original to be comprehended. The fine, dusty sand, that ripples down from the side, leaving a barren landscape; the glitter and shine of reflector foil cut into sculptural patterns: The material, it´s textures and surfaces mesmerize the gaze, raising contradictions and questions.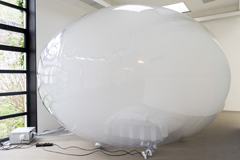 The Oneironaut (lab), 2021
Arctic Circle
For three weeks Lena von Goedeke traveled around Svalbard (Spitzbergen), while spending two of them onboard of the Barkentine Antigua, together with 34 people of different disciplines. In
The arctic blog
(in german), the artist gathered all of her impressions and experiences she made during her travels.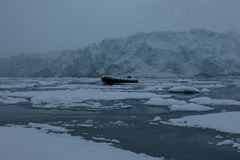 Habitable Zone II, 2019
Lots
Lena von Goedeke first designed the three-dimensional web of silhouettes with the help of a computer program used to generate virtual worlds and then assiduously cut the negative areas out by hand.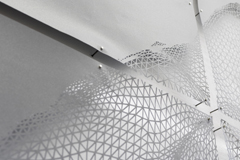 Detail Lot VI, 2018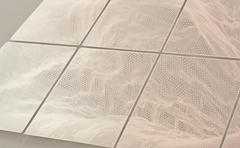 Detail Radar II, 2018
Zombies
A sensory level is precisely so central to Lena von Goedeke's works, which is why the objects and their nature demand such close scrutiny. It is all about their existence in the here and now, about encountering them face-to-face.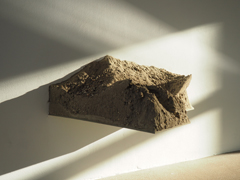 Zombie (7), 2018
Certificates
The genesis of Lena of Goedeke's works is closely linked with electronic data processing. This is symbolically conveyed in the Certificates with a fingerprint as reference to our existence between the analogue and the virtual worlds: the digital fingerprint that tracks our online activity, the unlocking of a touch screen and the touch screen as such, the finger that grants us access to a virtual world where, paradoxically, at the moment it is "entered," the tactile level, along with so many other levels of sensory perception, becomes meaningless.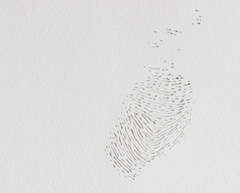 Detail Certificate, 2018
Papercuts
In this era of digitalization and artificial intelligence, Lena von Goedeke explores the merging of analogue and digital technologies and their perception. The discrepancy between the content of our subjective experiences of the two different worlds is made manifest in her objects, related as they are to both, thus stimulating thinking on many different levels.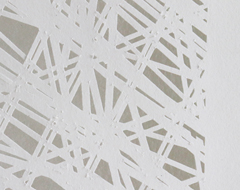 Detail Papercut, 2018
Ink drawings
The ink drawings from the series "Kenzo", "Wear" and "Astra" are based on the same grid. The works each go through different development processes in the area of digital processing and realization on paper. In the process of creation between manual design and automated implementation, hardware, the artist's handwriting and the plotter leave their own traces. Deviations from the regularity of the original pattern raise questions of standardization, perfection and individuality and point to the vivid blurs in the translation of ideas into the digital.

"So there are flaws where the pen did not rest completely due to paper waves, weak lines where the ink did not run fast enough or "wipe traces" where fluff gathered at the tip of the pen. In this way my computer infrastructure constantly produces unique specimens, the more energy I put in by hand to work as accurately as possible."
Lena von Goedeke, 2020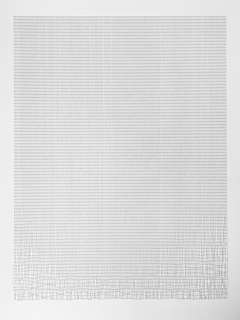 Wear 2, 2019