Conceptional work by Tanya Poole
The multimedia and conceptual work of Tanya Poole, a contemporary artist based in South Africa, combines different media in her bodies of work that focus on societal groups, individuals and relationships. A main part of her oeuvre comprises large-format paintings with Indian Ink that are unique in their size and the use of coincidence and masterly control of the medium. The monumental paper works evoke a stunning spatial impression and immerse the viewer.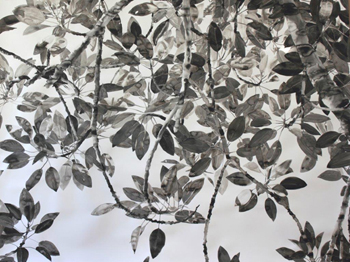 Where everything better is waiting in another place, 2018
Kandahar Ink on Fabriano Paper, 200 x 150 cm
The Whispering Spring
Tanya Poole's large-format paper work shown at our booth belongs to a series about the biological scientists and their research at the Albany Natural History Museum in Makhanda, South Africa. The whole series comprises ink drawings in different sizes, one group showing trees and plants in the monumental size of 200 x 150 cm, another group with over 130 small paintings of insects, especially bees, and a last group with portraits of the scientists. Tanya Poole's show
"The Whispering Spring"
, opened in December 2018 at Galerie m Bochum, will deal with botany, the urgent question of the rapidly decreasing population of insects as well as the network of manpower that uncovers again and again facts and connections that have the power to open our eyes for the potential, magic, beauty, but also fragility of our surrounding nature.
Further information on the tree series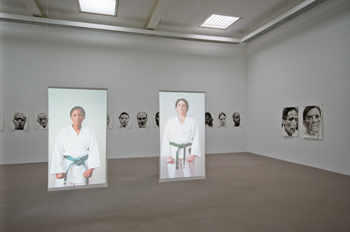 Exhibition view Thozama and Rose, 2015
Galerie m Bochum